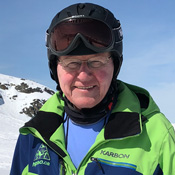 At the end of October, Bill Bates, our long-time Director of Long Trips announced his desire to step down as Director. 
Bill has been on the Long Trips Committee (LTC) for over 25 years, and as Director for many of those years.   Long trips is one of the core parts of what makes HPSC such a great club, and without Bill's guiding hand the club would be much different. The stability of the LTC over the last 10 years says a lot about Bill's approach and his leadership style. 
Do not worry, Bill is not disappearing from the club or from Long Trips. He has offered to remain on the LTC to support the new Director and be a member of the LTC.
Bill has recommended to the Board that long-time member of the LTC and of the club, Kim Wiebe, be appointed as the new Director of Long Trips to finish out the remaining 6 months of his current term. Kim also has the support of the other members of the Long Trips Committee.  At the November Board meeting held this week, Kim was approved as the new Director.  Welcome to the board Kim, and I look forward to working with you!
On a personal note, Bill's calm presence on the Board over the last year and a half has been a tremendous help as we worked through the aftermath of the COVID trip cancellations, as well as planning for trips in this new environment. His institutional knowledge of the club has also been a valuable resource.
Thank you so much Bill for all that you have done for the club! And I hope you enjoy all of your new free time!
Justin Graham
President, High Park Ski Club