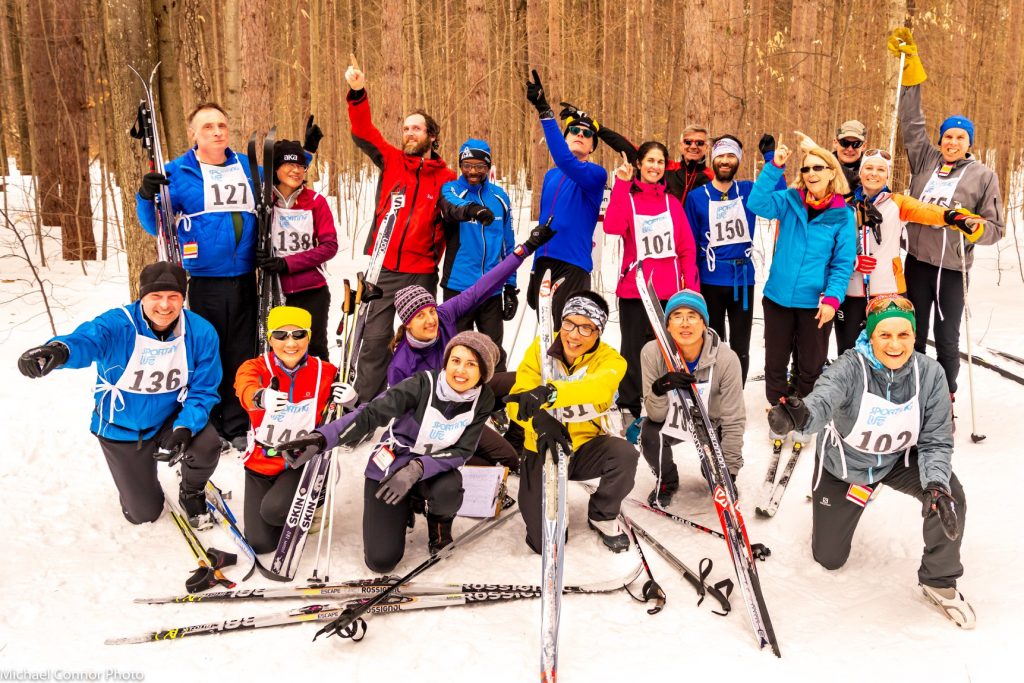 Get ready for yet another year of fun cross-country ski races! Our race program may have been competitive in the past, but now it's all about fun. Test your skills with a group of your closest ski friends and maybe win a prize in the process. Bonus: prizes are by draw, not by finishing time! We encourage wide participation, but you should be able to move around the trail for at least a few kms (even if it's not particularly fast!).
Look out for these events throughout the season…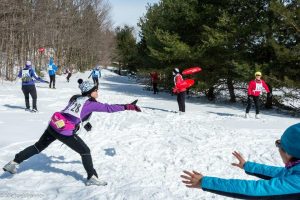 Race #1: Fourth Annual Frisbee Biathlon! Probably our most popular race of the season, we kick off the race program with our frisbee biathlon at Highlands Nordic on Jan. 4. The race director creates team of two. One person skis a very short sprint track, then you play frisbee! If you drop the frisbee, you have to do a penalty lap before your partner can ski. Fast skiing doesn't matter…it's all in the frisbee throwing.
Race #2: Return to Hardwood (Freestyle). On Jan. 12, we will have our first race at Hardwood since the devastating fire they had a couple years ago. Let's celebrate our return with a freestyle race. Choose classic or skate and test yourself on a relatively short course (4kmish).
Race #3: Fourth Annual Pine Trail Classic at Wasaga. Your race director's favourite race, this 3kmish classic race starts and ends at the fire shelter and takes you along the rolling hills of the beautiful Pine trail. Classic skiing only. Will this be the year no one gets lost? Probably not. January 18.
Race #4: Crossover Day Scavenger Hunt Race! On Jan. 25, join us for a fun team-based scavenger hunt race on the upper trails (the section with the lookout etc.). Solve clues along the way to find your way to the finish. Smarts and map skills probably outweigh fast skiing!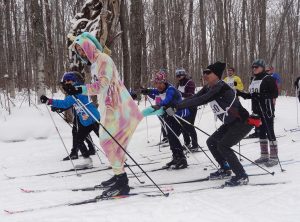 Race #5: First Annual Beginner/Advanced Spring Fling Costume Race. We close out the season on Mar. 8 at Horseshoe where we will do our annual beginner/advanced day (choose your own adventure – one course is shorter and flatter, the other longer and hillier) but with an added costume element! Celebrate spring in style and get bonus points if you ski in costume. Extra bonus points for the best costume!
There are often random bonus points given for ridiculous reasons and if you participate in one of these events, you will get an invite to our fun end of year party!