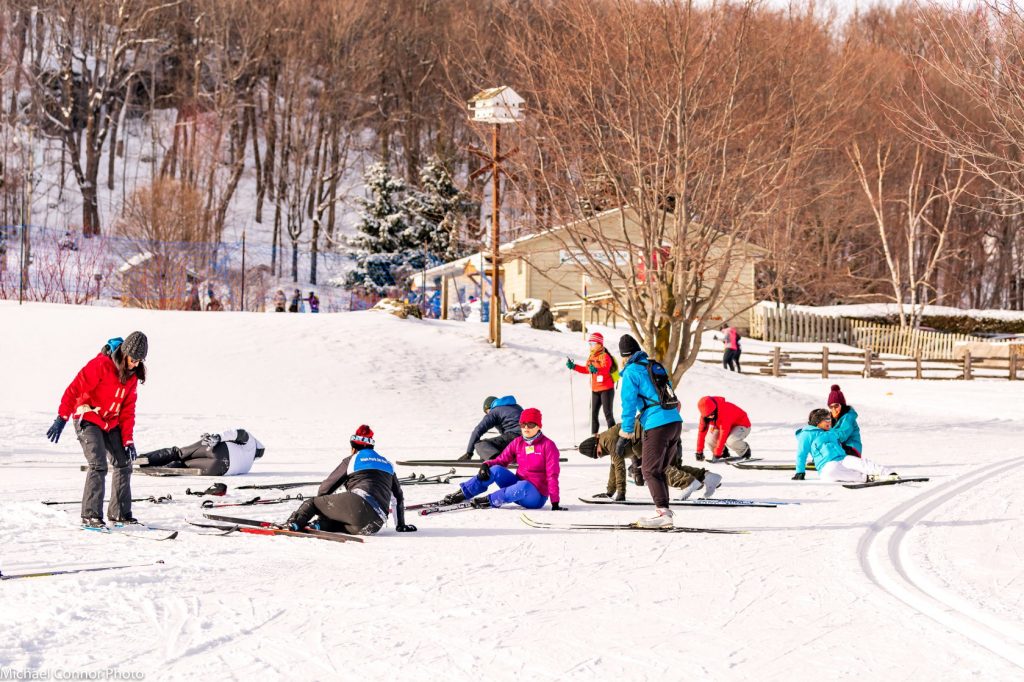 HPSC offers a wide array of lessons from our roster of qualified instructors. Taking lessons is a great way to learn the sport, refine your technique so you can explore more efficiently, and meet other skiers at your skill level.
Based on feedback from last season, the ski school has redesigned our lesson levels. We hope this will help students land in the right class so their skiing can progress more effectively. We have split classic and skate lessons into five levels. Below is a brief outline of each level to help you assess where you should be.
Classic 1/Skate 1:
I am brand new to skiing or have only been on skis once or twice.
I feel uncomfortable on skis – my balance is very unsteady. I fall often.
I don't even want to think about hills!
Classic 2/Skate 2:
I have been on skis before, but still feel uncomfortable or unsteady at times.
I don't think I understand the basic techniques.
I can't glide with all my weight on one ski.
I attempt to get down gentle hills, but I'm still very hesitant.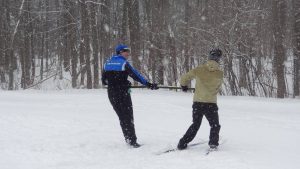 Classic 3/Skate 3:
I feel comfortable moving on beginner trails and may go on some intermediate trails.
I understand the basic techniques, but my skiing feels choppy and, while sometimes I manage it, it is hard to glide with all my weight on one ski.
I can get myself up and down moderate hills.
Classic 4/Skate 4:
I think my skiing is fluid and efficient much of the time.
I can confidently glide with all my weight on one ski some of the time.
I feel comfortable on intermediate trails, and capable of advanced trails.
I can get myself up and down most hills, although still hesitant on the steep ones.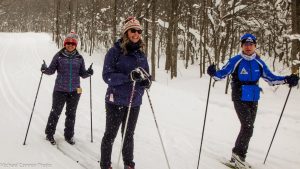 Classic 5/Skate 5:
I think my skiing is fluid and efficient most of the time.
I can glide with all my weight on one ski most of the time.
I am comfortable on all the trails and cool with most hills I encounter on advanced trails.
I think I'm ready to learn more advanced techniques
How do I know what level to put myself in?
With the above descriptions in mind, do your best to estimate where you should be. Feel free to talk to the head instructor on the bus when they go around confirming lessons. They are happy to provide advice.
Once an instructor sees you on skis, they may decide its best to put you in a different group. Don't worry about being moved up or down. Placing students in the appropriate group is essential for a safe and fun learning experience for everyone. Worry less about the level and focus on skill development. We also may, due to instructor availability, combine lesson levels. But the instructor will be able to give tailored activities to each level. We appreciate your cooperation.
When can I move up levels?
Instructors are looking for particular markers at each level. At the end of each lesson, the instructor should provide feedback on specific things to work on. They will indicate if you should register for the same level or move up next time. If they don't, please ask them.
Why did the lesson levels change?
Based on feedback from students and our experience teaching lessons we felt that the old levels (e.g. Beginner, Bronze, Silver) were unclear. Furthermore, we wanted to provide more opportunity for students to progress in their development. We've reworked lessons into a clearer set of levels, with better definitions for what each level means. This should allow you to be better able to get a lesson at your current skill level which maximizes your ability to learn and progress in your skiing.
Should I take lessons every trip?
The answer to this question is completely personal. We offer lessons on every trip. Some people like taking one every trip. Others like to take a lesson, go off on their own and practice for a couple weeks, and then come back to a lesson. Everyone learns differently. Do what's right and, most importantly, most fun for you.