Now that we're solidly into fall, it's a good time to talk about what you need to launch your new passion – cross-country skiing and snowshoeing.
If you're new to the sport, we recommend that you rent for the first few times; once you know you love the sport, buy gear. It will save you lots of money in the long run. Once you invest, you're good to go for years (just ask David, who has owned his skis for about 20 years), although you may want to upgrade eventually as ski technology advances and/or your skills outgrow your skis.
As with any sport, you can spend as much as you want. There's everything from wider, heavier entry level skis to thin, super light (and expensive) race skis. There's also backcountry or touring skis that are wider with edges (great for backcountry, not so great for track skiing). Your budget, your skill level, and the type of skiing you want to do will all factor into your decision.
First up, skis. What type of skiing do you want to do? Classic, or skate? Classic skis are longer, skate skis are shorter. For the type of classic skiing that HPSC does (track set at resorts), think twice about backcountry skis.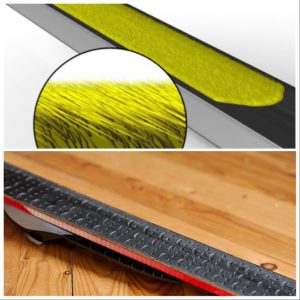 Classic skis come in waxable or waxless. Waxable means that you apply wax to the grip zone under your foot, and that wax grips the snow when you put your weight on the ski. Waxes come in different temperatures and what you use depends on the snow temperature. When conditions are good for waxing (-5 to -15ish), waxable skis are fast and awesome. The challenge is that conditions in Ontario are highly variable with freeze/thaw cycles, and consequently icy conditions, unfortunately becoming more common. Waxing can be a real challenge. If you're new to the sport, we recommend a good pair of waxless skis. Waxless skis either have a pattern etched into the grip zone ("scales") or a strip of mohair ("skins") that grips the snow. They say that skin skis give good grip without sacrificing as much glide as fish scales. You can more easily use waxless skis in a wide variety of conditions. Some of us own both waxable and waxless skis, but if you are investing in one pair, waxless will give you more options and less frustration (in my opinion!).
Skis are dependent on your weight and height, especially for classic skiing. It's important the person selling them knows what they are doing; if someone just hands you classic skis without putting you actually on them, walk out of the store and find somewhere else to buy them. The skis need to be appropriate for your weight, so that when you transfer your weight onto the ski, you can put the right pressure on the grip zone.
Once you have your skis, you will need boots and bindings. Boots are important – get a pair that are comfortable, or your feet will be unhappy. Walk around the store and really make sure they will work. Skate boots have a higher ankle to provide more support as you move laterally. Classic boots will not have the same level of ankle support (more race-oriented boots have virtually none). There are what are called "combo" boots that you can use for both classic and skate. Bindings are specific to the boot you buy – Solomon uses SNS and the others use NNN. There are now bindings that can be moved up and down to give you more grip or glide…but at a beginner level, this is of limited value. Get a basic binding that fits the boots you want.
Poles are the final piece of the puzzle. Skate and classic poles are different lengths (skate poles are longer). A nice feature to have is the hand straps that click out of the pole – so that you don't need to take them on and off whenever you need to do something with your hands (important stuff – like take photos!).
When you are ready to buy, we recommend visiting stores that specialize in skiing. Hardwood Hills and Highlands Nordic have great pro shops and knowledgeable staff. They have demo days where you can try out skis, and they sell packages if you are getting a new set up. We highly recommend talking to them. In the city, Velotique is a good option. MEC sells XC skis, but we recommend buying them there only if you already know what you want to buy.
Everyone has different opinions about gear, and this article is just one. Talk to your new, but experienced, ski buddies and do some online research.
Stay tuned for more articles on ski and snowshoe gear this fall.