Dear HPSC friends,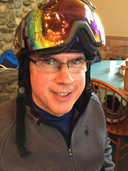 December 21 is the Winter Solstice – the official beginning of winter. Beginning tomorrow, each day starts to get longer. This time of year most religions and cultures have some sort of holiday or festival that celebrates new life or a rebirth. This year our club is also celebrating a rebirth. Over the last three seasons, we have tried to do what we could to keep our club going, to provide an experience which is at the core of High Park Ski Club. While we still need to be careful, things are feeling much closer to normal than they have been in a long time.
This time of the year also represents the beginning of the most crucial 90 days in the annual HPSC calendar. We work all year long for what happens in the next three months. In the last couple of weeks, we have held our First Tracks Holiday event, our first downhill day trip, our first overnight trip, and day trips have opened for registration.
Our membership numbers continue to grow each day! Over the holidays, please talk to your family and friends about the club and encourage them to join us!
Things are moving forward for what I hope will be one of the best HPSC seasons ever!
Happy Holidays to each and every member!!
Justin Graham
President, High Park Ski Club