There is snow on the ground! Some of the resorts up north have opened limited trails. There is no track set yet – and it is definitely rough rock skiing – but it is setting up for hopefully some nice December skiing, which we didn't have at all last year. Hopefully all this bodes well for great conditions through our season! A few updates as we get closer: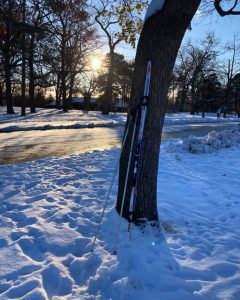 Schedule: We are close to posting the schedule. The resorts are confirmed and we are just scheduling the guided snowshoeing. Stay tuned! It will be posted here by the end of the month. Registration will not open until two weeks prior to the trips. The schedule will indicate when registration for each trip opens.
HPSC XC 101: If you are a new member, join us Dec. 14 for a virtual session to learn all about our policies, procedures, what to expect on trips etc. It will be led by HPSC's XC director, Heather Steel. Register here. Registration is open until Dec. 13 and is limited to 100 people.
Equipment: A hold over from the pandemic, rentals at a few of the resorts (Hardwood, Horseshoe) are a bit more complicated than in the past (as they require you to pay in advance online, which is fine, but if you don't show up, you may have difficulty getting your money back). If you are joining us for snowshoeing, we recommend getting a pair of your own snowshoes. They are not expensive and will pay for themselves fairly quickly (and you will avoid all the hassles of renting). MEC has affordable ones, or you can buy online as you don't need to be fit for them in the same way as skis. Ski gear is more expensive, but if you love it and plan on doing it ~5 times/year, a beginner package will pay for itself over 2-3 seasons (depending on what you get). The more you ski, the more it's worth it. Of course, if you are new to the sport, it does make sense to rent to see if you actually like it. In Toronto, the best place to visit for equipment is Velotique. You can also visit the pro shops at Hardwood and Highlands. While you can buy gear at other locations (MEC etc.). we feel these three places have the most knowledge about fitting people on skis (which is important to a good ski experience). We have more information on the blog on the types of ski gear and snowshoes .