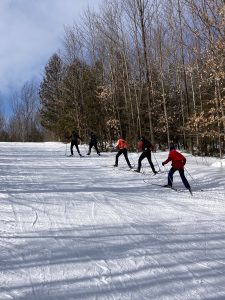 This past weekend HPSC's cross-country crew returned with our first bus trip in almost two years! We were limited to 25 people on the bus (that will increase after Feb. 21), but that didn't damper our fun.
Highlands Nordic had excellent conditions and welcomed us back with open arms. Thanks to them! We offered four lessons – three classic and one skate. Our classes were a bit larger than normal, but everyone was a good sport, which allowed us to accommodate as many members as possible.
There were big smiles all around, happy new members, and returning members seeing each other for the first time in a long while. Thanks to all our members for following all the COVID protocols to make sure that we can continue to run buses. We've got two trips on the long weekend (both sold out, but there is a waitlist) and we've opened Feb. 26/27 trips for registration. Feb. 26 is going to Highlands Nordic and Feb. 27 is going to a club favourite, Georgian Nordic. With increased capacity, there's still room on both trips.