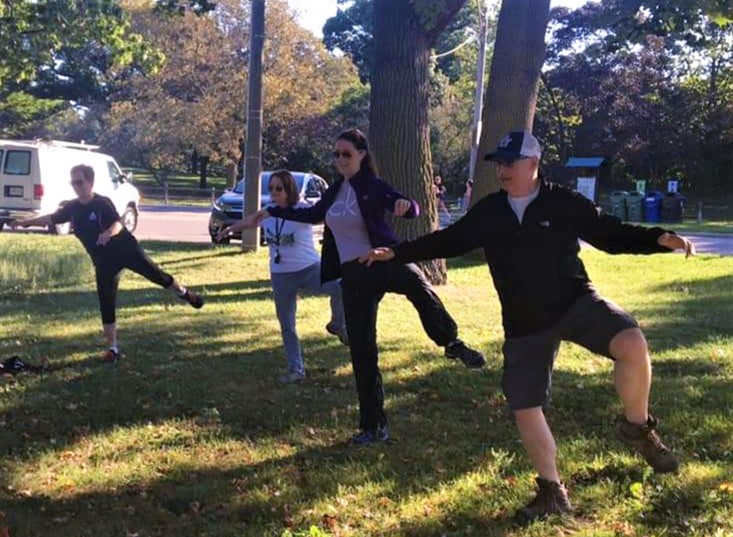 This year especially, pre-season fitness will be extremely important for HPSC members.
As always, we will be running our fun fall SkiFit program in High Park on Saturday mornings. Come enjoy the outdoors and make new friends. This is a free, fun and social event with athletic activities to suit a variety of fitness levels. We have something for everyone who wants to start getting ready for winter.
And good news, Karen Evans and John McHutchion, have agreed to return to lead the sessions this year. They, however, will not be available for the first session September 11th or on September 25th.
New HPSC members are very welcome to register. However, as was the case last year, we will continue SkiFit as an HPSC members only event.
We will also continue to require members to register each week for the session and will initially limit the number to 30 participants. Registration will open each Tuesday for the following Saturday's session. The sessions are listed on the club Social page calendar.
If you cannot make the session, please email president@hpsc.ca and I will remove your name and open it up to the next person on the waitlist.
Unfortunately, the Grenadier Restaurant continues to be close on the weekends, so we will not be able to stay for brunch. Hopefully by the end of the fall, this will change, or we might be able to find another nearby location to have brunch.
Weekly Schedule
8:55 am Meet in High Park, under the trees on the north side of the Grenadier Restaurant parking lot. See map below.
9:00 am A fun warm up with introductions. Includes agility and balance exercises.
9:15 am We head off to enjoy a variety of activities. Walk, run, Nordic pole walking… We have groups for every fitness level. Nordic pole walking guidance offered. Bring your own walking poles.
10:45 am A stretching session led by our volunteers, and announcements of upcoming events.
11:00 am This year, we will not be arranging for brunch as a group at the Cafe.
Ski Fit is a free program for all club members. Register and come check us out. We meet rain or shine. Wet weather can be even more fun as we benefit from the leafy tree canopy and park shelters.
Location: 180 Colborne Lodge Dr., Toronto. In the centre of High Park. Meet on the North side of the Grenadier parking lot, under the trees.
NOTE: According the High Park website the park is closed to vehicles on the weekend, so if you are driving you will need to find a parking spot outside of the park.