If you're new to cross-country skiing, you may not know that there are two different styles of skiing – classic skiing and skate skiing.
Classic skiing is the original form of cross-country skiing. Skiers ski in preset tracks made by groomers using a technique we call diagonal stride to propel themselves forward. With the skis in the track, the skier puts their weight on one ski, pushes off, and glides on the other ski. Then repeat! (This is a super simplified technique explanation). Most people will start their cross-country ski careers in classic. While classic technique is actually difficult to master and perform efficiently, it is relatively easy to get moving on the trails and takes perhaps a little less fitness to do so.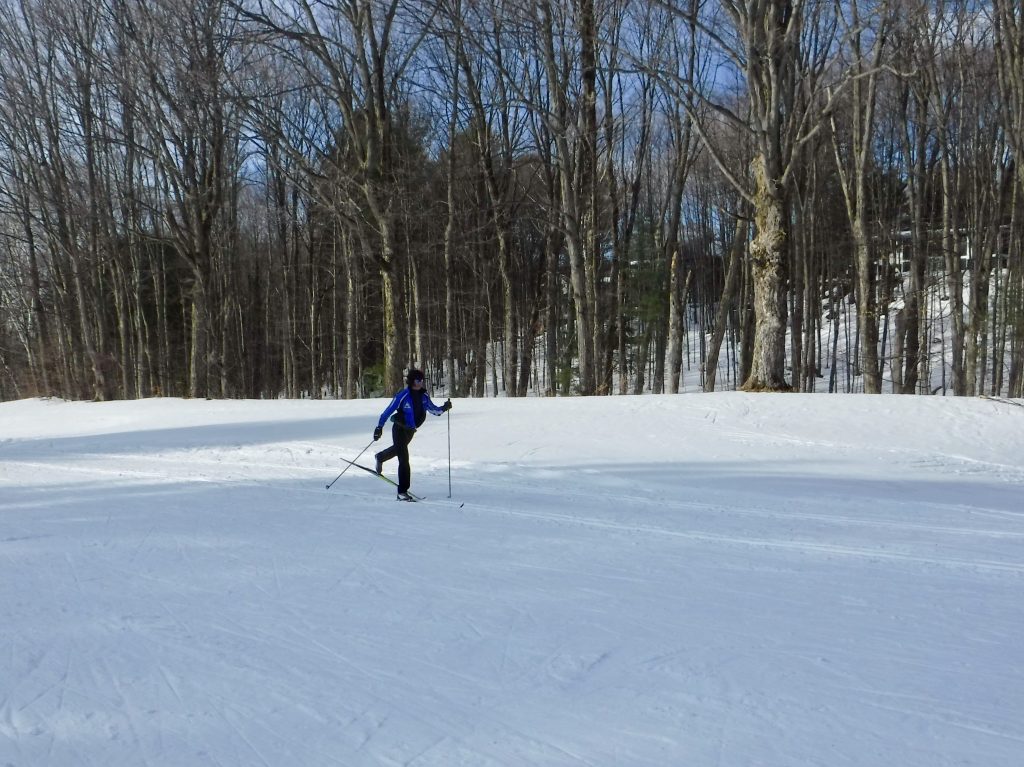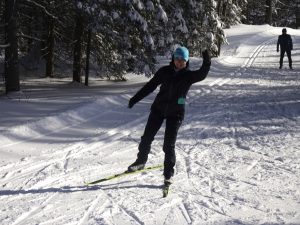 Skate skiing emerged as a newer technique. Done outside of the classic tracks, it resembles an ice skating motion (hence the name) with the skier pushing off the skis laterally to propel themselves forward. When done well, it's fun and fast! There is, however, arguably a steeper learning curve to skating; while it varies between individuals, generally it takes people longer to get functionally moving with skate skis. And it can be exhausting at first. But if you stick with it, it becomes lots of fun, and less tiring as your technique improves.
The skis, boots, and poles are different for each. Classic skis are longer than skate skis, and classic poles are shorter than skate poles. Skate boots have more ankle support than classic boots. Skate gear tends to be more expensive to rent.
Conditions will dictate which technique will be more fun on any given day. I love classic skiing when there's lots of fresh snow, or it's a perfect blue wax day with fresh track. If you only skate ski, you'll miss out on the beautiful classic-only trails Ontario has to offer. On a harder packed, or icy, day, give me skate skiing! That's when you can really fly. Temperature can also play a critical role; if it's really cold, skate skiing is going to be a slog.
HPSC offers lessons in both techniques! Learning both will open up a whole new world of skiing.