New Trip – Holiday Valley
New trips has been added to the schedule, W9 Holiday Valley-2. The interest in Holiday Valley was exceptional this year so we have put on a new weekend trip to accommodate those on the long waiting list and also provide seats for many more members for this attractive location. Holiday Valley is a great resort to ski and quite close to Toronto. If you have never been there before you'll really like the skiing and enjoy the pretty town of Ellicottville on Saturday night. On this trip you will leave after work on Friday and return early Sunday night.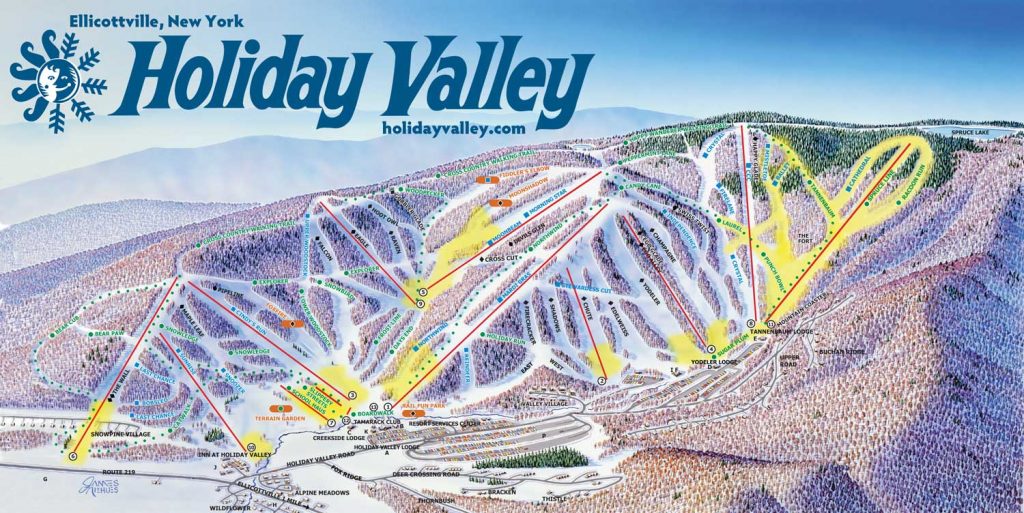 Trip Sign-Up Night #4
Trip Sign-Up Night #4 (TSUN) will occur this week on Thursday, November 7, 2019 starting at exactly 8:00 PM. W9 Holiday Valley-2 go on sale for the first time. Login, go to the trip page and scroll down to the "Register" button. Don't look for the button now; the "Register" button will appear only after 8:00 PM. Registration will continue 24 hours a day until each trip is sold out. Note: previously announced trip to Banff-2 in March is cancelled due to the low interest.
Getting on a Trip
The procedures for registering on TSUN are on the webpage, TRIP SIGN UP PROCESS. Only those who have paid the membership fee for 2019-2020 are able to register.
Open Trips
There are still a number of seats open on several trips: Two overnight trips, W4 Mt Ste Anne on Family Day weekend (12 seats), and W7 Lake Placid a mid-week trip in March (23 seats). Two charter trips, C6 Silver Star BC which is combination of downhill and X-country (4 seats), and C7 Les Arcs France which is the second Europe trip of the season (2 seats). You can register for these seats at any time. Seats on the 2 charter trips have definite deadline dates where unsold space must be released.
Join Waitlist Button
If you see a "Join Waitlist" button instead of the "Register" button, do not think that you have missed out. We try our best to get a place for everybody on the waitlist. You may not hear from the Trip Leader right away because it takes some time to arrange for extra seats. If your name is on the waitlist, you will be contacted in the order you signed up. So go ahead and add your name to the waitlist; there is no cost to do so. If you later change your mind and are no longer interested in that trip, you could send a courtesy email to the Trip Leader so your name can be removed from the waitlist.
Cancellation Insurance
HPSC strongly recommends that you have trip insurance for any long trip. If you are injured or get sick either beforehand or while on the trip you will want to have insurance so you can recover the cost of the trip. And here is an important reminder, "Put a photocopy of your insurance information in your ski jacket." If something happens on the hill, you will want to have your OHIP card and insurance information at hand and not back in a hotel someplace.
Bill Bates, Director