#1- If you drive-up, you need to register on-line before the deadline in order to take a lesson !
Before each day trip, your instructors diligently review the numbers of on-line registrations in order to best organize the different STEP classes. .
This is why if you drive-up, and want to take a lesson, you need to register on the HPSC site before the deadline. We want to ensure we arrange enough instructors to allow for manageable class sizes. On some Saturdays we can have between 20 and 40 members driving up, and consequently, we need to add an additional 4 to 8 instructors to ensure a valuable learning experience for all of our members.

With increasing numbers of members both on the bus and driving up, we can only provide instruction if you register before the deadline. If you do not register before the deadline, you will not be counted in during lesson planning, and consequently we may not have enough instructors to provide a safe, fun, and challenging experience for our members. Drive-ups who do not register before the deadline cannot join a class.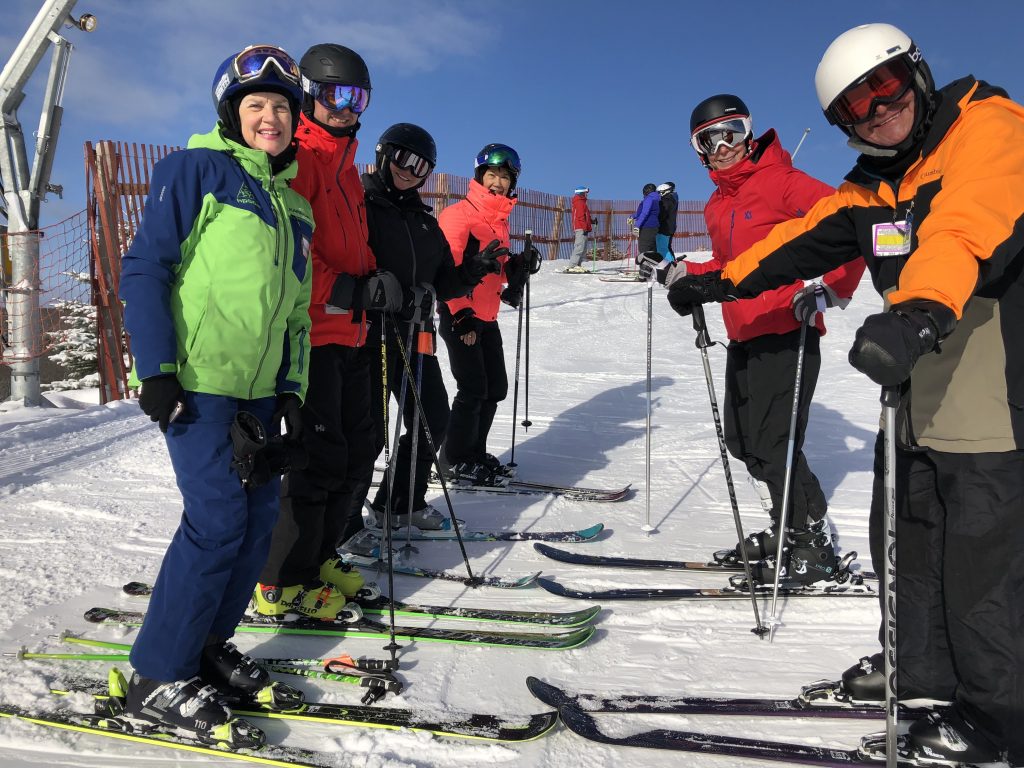 #2- Get your own lift tickets!
Since you arrive on your own, you will need to buy your own lift tickets, unless of course, you have a pass. You will not be able to take advantage of the HPSC group rate. Make sure you give yourself enough time to do this and be ready for the lesson line-up!
#3- Cancel if you change your plans.
If you have registered as a drive-up before the deadline and then cannot make it, we ask that you follow the same cancellation procedures as if you were on the bus:
For Saturday, Sunday and Monday trips, email cancellations@hpsc.ca before 8:00pm the previous Wednesday. For Wednesday trips, email cancellations@hpsc.ca before 8:00pm the previous Sunday.
If you are still registered by the deadline, we assume that you are coming and will include you in our planning and will send enough instructors to teach you and all other registered members.
#4- Read the Trip Status Email You Receive Prior to the Day Trip
A day or two before the trip, you will receive a Trip Status email which will include important information such as where and when ski assessment will be, where and when classes will meet. PLEASE READ IT CAREFULLY!! Times might change depending on the bus arrival, so check with an instructor (green and blue stylish jacket) in the chalet or on the hill.
#5- Limited Number of Drive-up Spots – So Sign up early!
In order to offer safe, fun and challenging classes for all, and to ensure that communications and safety are maintained throughout the process, the number of drive-ups are limited to approximately 1 drive-up spot for every 2 members on the bus . In order words, we will initially limit drive ups to 25 spaces for the first bus. As soon a second bus is added, an additional 25 drive-up spaces will be open. So, sign up early!!

Once again, the bottom line is: If you are driving-up and want to join a class, make sure you register early and before the deadline! If you forget, you can ski on your own or with your friends when others are in class; just make sure you register next time!!
Thank you for following these guidelines which will really help the club volunteers who strive to provide all members with a great day trip experience. See you on the hill!!

From your Day Trip and Snow School Directors