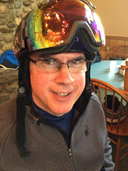 I can't believe that January is already over! And for the first time in three seasons we are concentrating on running trips and not other issues; looking more at weather forecasts than public health alerts. In the last two weeks we have run all scheduled day trips, two successful charter trips, our very popular Holiday Valley weekend, and, as well, members are currently in Tremblant till this Thursday.
After a bit of a slow start, it appears that the snow has finally arrived, resulting in good conditions in ski country. To avoid disappointment, please sign up for trips early. If the trip is full, put your name on the waitlist – don't worry you will not be charged for joining the waitlist. If there is enough interest, we will add a second bus, if possible.
And we are planning new social events – the next being a Toronto Marlies game on the afternoon of Family Day (February 20) at Scotiabank Arena, against the Utica Comets. The Marlies are one of the top teams in the AHL, and lead the North Division, while the Comets are in second place. Utica are the farm team for the New Jersey Devils. Come see future Maple Leafs for a faction of the cost! Click here to register.
Finally, I am very pleased to mention that our membership number has finally rebounded to pre-COVID level, which at the time had been a high for at least the previous eight years. Included are more than 330 new members. Thank you to all of you for joining the club this season. As I have said in the past, people join HPSC for various sports, but return year after year due to the friendships they make.
I truly hope that all of you are enjoying this season!
Cheers!
Justin Graham
President, High Park Ski Club