Dear HPSC Friends,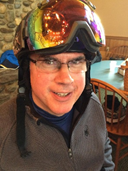 It has finally happened – we are back to our regular schedule!!
This past Saturday we held our traditional Double Double day with lessons both in the morning and afternoon at Mount St. Louis. And we were finally, after a number of weeks of disappointment, able to run cross-country trips due to the recent snowfall in resort country. Thank you to Heather for all her work in juggling the cross-country schedule to get the first trips run. This coming weekend our initial charter trips of the season leave for Jackson Hole and for France. I hope everyone has a fantastic time!
Just a reminder, for those who haven't been on our day trips in a few seasons: Last year we had to adjust our registration deadlines due to our change in bus company. For weekend trips (Saturday, Sunday, Monday) the deadline is now on the Tuesday prior at 6 pm. The deadline for Wednesday trips is the previous Thursday at 6 pm. To avoid disappointment please sign up early. If the trip is full, please sign up on the waitlist. If there is enough interest, we will add a second bus (which also means using our two additional pick-up locations of Queen's Quay and Liberty Village).
Regarding cross-country day trips, please make sure to read the trip descriptions carefully and follow updated posts on our Facebook group, regarding when trips open for registration. Due to the uncertainty of conditions, at least so far this season, registration is being opened when we are sure the resort conditions will allow us to run trips. This is to avoid having to process a large number of refunds which costs the club in credit cards fees.
Also as a reminder, if you need to cancel a day trip you have registered for, please send a message to cancellations@hpsc.ca.
To end on a personal note, I am very disappointed that I will once again miss skiing and snowshoeing this season. According to an MRI I had just before Christmas, I have re-ruptured my quad tendon and I needed to have surgery repeated on January 11. I am currently in a full leg cast for the next 5 weeks and will then start physio once again. However, I will try to be at as many club events as possible while I recover.
Cheers!
Justin Graham
President, High Park Ski Club